The Brand Avatar: Unlock Your Professional Potential & Dramatically Increase Your Income By Duane Browne and co-authored with Raymond Aaron

In "The Brand Avatar: Unlock Your Professional Potential & Dramatically Increase Your Income," Duane Browne shows professionals how to create a brand avatar and use it to significantly change their professional trajectory.
The new book, The Brand Avatar: Unlock Your Professional Potential & Dramatically Increase Your Income, is a comprehensive guide to give young professionals the skills and wisdom to take their careers to the next level, as well as a tool kit for personal branding.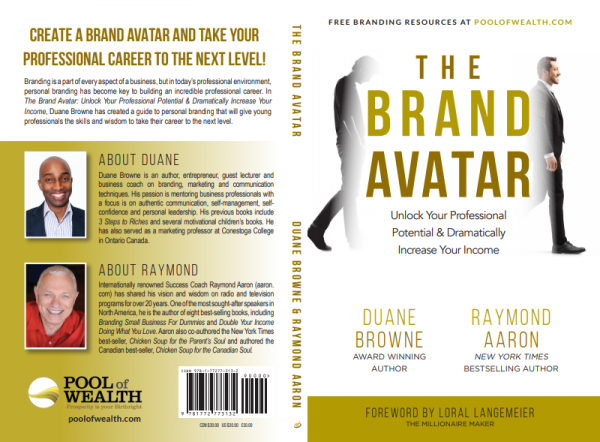 Duane Browne is an author, entrepreneur, guest lecturer on branding and marketing techniques, mentoring professionals in corporate and consumer branding. His expertise in building alliances, strategic and tactical planning, creative idea generation, and management at various stages of the production and sales processes.
He said: "My purpose in writing this book was to share the branding techniques that can help a young professional take their career to the next level. It is about breaking through the idea that you can be limited by circumstances and your career capped. The truth is that with the right branding your career can go as far as you want to take it. My dream is to help others reach their dreams and goals. Your legacy is not what you achieve to make your own life better but what you can pass onto others."
For Duane, these are not techniques and tools that he just talks about. Instead, he has used them in his own career, building his professional coaching and consulting business. He focuses on action and directing your actions to get the most corporate exposure to increase your income and meet your personal and professional goals.
He said: "Let's just cut to the chase. There is a direct relationship between massive success in business and being the owner of that business. The key is to find the balance to create the life that you want. When your mind, body, and soul are tired or lacking energy it is impossible to give 100% in what you are doing. With these tools, you can ramp up your energy level and achieve all the goals that you set for yourself, personally and professionally."
This engrossing read will help you to capitalize on the skills, knowledge, and experience you already have, and grow your expertise to take your career to the next level. Duane helps you to explore personal branding from a new perspective, discussing everyday situations from a practical point of view, allowing you to create phenomenal growth professionally and personally.
Duane was inspired by Raymond Aaron, New York Times best-selling author, who served as his co-author. "Raymond showed me that to create the life you want, then you have to change your thinking about everything. It has been an incredible part of my journey."
Get ready to adjust your mindset, set objectives for success, and create the opportunities that will let you craft your ideal life. Duane can give you the tools to construct a transformational brand avatar, your key to increasing your income. Plus, Duane shows how making more money means you can do what you have always dreamed of and create a life that you love.
Loral Longemeier, who wrote the foreword, also inspired Duane with her understanding how you can attract what you want into your life. "Loral is just one of those individuals who inspires me to keep focusing on what I want to achieve, because nothing is impossible."
Duane lives in Canada, where he continues to motivate others to take amazing leaps in their careers. He works with individuals to help them develop professionally, including building alliances, strategic and tactical planning, and creative idea generation. He also has authored the book 3 Steps to Riches and several inspirational children's books. If you or your organization requires a dynamic speaker, brand coach, marketing strategist, or mentor, Duane Browne is ready to guide you on the path to increase success in your business and life.
He can be contacted at www.poolofwealth.com.
For more information, visit: www.amazon.com/BRAND-AVATAR-Professional-Potential-Dramatically/dp/1772773131
Media Contact
Company Name: POOL of WEALTH
Contact Person: Duane Browne
Email: Send Email
Country: United States
Website: http://poolofwealth.com/