Nightfood (OTC Stock Symbol: NGTF) Management Sees Strong Growth Indicators in Fiscal 2020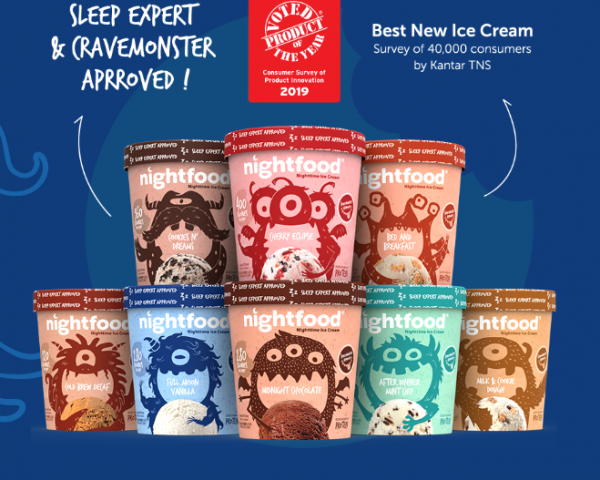 Nightfood, Inc. (OTCQB: NGTF), the better-for-you snack company pioneering the category of sleep-friendly snacks for nighttime, yesterday announced sales of 262,574 pints of Nightfood ice cream in the twelve months ended June 30, 2020, up from 63,041 for the previous year.
During that same twelve-month period, Nightfood expanded its supermarket count from approximately 190 stores to approximately 700. As of today, the brand is available in almost 800 supermarkets across the country.
In the most recent three-month quarter, ending September 30, 2020, initial unaudited reports show 99,357 pints sold. Management expects volume increases to carry forward as we continue adding new retail partners in this phase of account acquisition.
Recent Company Highlights: 317% increase in pints sold from prior year

268% increase in store count during fiscal 2020

New distribution into divisions of Kroger, Albertsons, and H-E-B, three of the larger supermarket chains in the country.

All indicators point to Nightfood's largest distribution arrangement to date, not only in size of the roll out, but also in name recognition, to begin next quarter. We believe this roll out would be an indicator that Nightfood's retail acquisition model is working.
"We recently made the decision to begin speaking about pints in addition to revenues in an effort to provide investors with what we feel is a better way to judge our performance and truly measure the growth and progress we're making without variable slotting fees confusing the issue," commented Nightfood CEO Sean Folkson.
"Not all of our desired retailers charge slotting fees, but many of them do, so with variable slotting fees being front loaded, we believe that providing pint volumes as an additional metric will be helpful to our shareholders' understanding." Ex. Nightfood enters into a distribution arrangement with new chain, with slotting fees of $50,000.

If the first order from this retailer is $52,000, Nightfood fulfills the order, and delivers $52,000 worth of ice cream.

Nightfood would recognize Gross Sales of $52,000, and net revenue of $2,000.
Many retailers charge a slotting fee when introducing new products into their stores. The fees can range from a few thousand dollars to mid six-figures with some retailers. These fees are normal and customary, and are charged to companies of all sizes, from startups to multinationals.
"We're excited about the great progress reported in Fiscal 2020 and continued growth on all fronts," added Folkson. "We're looking forward to discussing all recent and upcoming developments on our next investor conference call, tentatively scheduled for Tuesday, October 27 at 4:30 PM eastern."
About Nightfood Holdings:
Nightfood Holdings, Inc. (OTC: NGTF), owns Nightfood, Inc. and MJ Munchies, Inc.
Nightfood has expanded distribution for its ice cream into major divisions of the largest supermarket chains in the United States: Kroger (Harris Teeter), Albertsons Companies (Jewel-Osco and Shaw's and Star Markets), and H-E-B (Central Market) as well as Lowe's Foods, Rouses Markets, and other independent retailers.
Nightfood won the 2019 Product of the Year award in the ice cream category in a Kantar survey of over 40,000 consumers. Nightfood was also named Best New Ice Cream in the 2019 World Dairy Innovation Awards.
Nightfood has been endorsed as the Official Ice Cream of the American Pregnancy Association and is the recommended ice cream for pregnant women. There are approximately 3,000,000 pregnant women in the United States at any given time, and ice cream is the single most-widely reported pregnancy craving. With more calcium, magnesium, zinc, fiber, and protein, less sugar and a lower glycemic profile than regular ice cream, Nightfood has been identified as a better choice for expectant mothers.
Nightfood is not just for pregnant women. Over 80% of Americans snack regularly at night, resulting in an estimated 700M+ nighttime snack occasions weekly, and an annual spend on night snacks of over $50 billion dollars, the majority of it on options that are understood to be both unhealthy, and disruptive to sleep quality.
Nightfood was formulated by sleep and nutrition experts with ingredients that research suggests can support nighttime relaxation and better sleep quality. Scientific research indicates unhealthy nighttime cravings are driven by human biology. Willpower is also weakest at night, and stress is another contributing factor. A majority of night snackers report feeling both guilty and out-of-control when it comes to their nighttime snacking.
Because unhealthy night snacking is believed to be biologically driven, and not a trend or a fad, management believes the category of nighttime-specific nutrition, which Nightfood is pioneering, can be a billion-dollar category.
After eighteen months on shelf and hundreds of thousands of pints sold, Management has gathered product feedback from category managers, brokers, and, most importantly, thousands of consumers.
Management analyzed the well-known packaging case studies of successful brands like Chobani, Halo Top and RX Bar. Each of them famously accelerated to new levels of sales velocity following successful packaging redesigns. The 2.0 version of packaging for each brand highlighted a single key consumer benefit, typically identified in the marketplace after the initial product launch.
Management is also taking cues from leading global food and beverage giant PepsiCo. Last month, Pepsi announced the upcoming launch of a sleep-supporting drink called Driftwell. Pepsi stated, "Driftwell is not just a product but an essential wellness conversation in North America that the brand is proactively driving. Relaxation and dealing with stress is a lifestyle shift."
For the packaging refresh, Nightfood tabbed OffWhite Co., the design firm behind the iconic packaging for Chobani and Maple Hill Creamery.
"The Nightfood Cravemonster™ will remain a central figure, as the unhealthy nighttime cravings personified by the Cravemonster are at the core of the consumer need and usage occasion," continued Folkson. "But the focus will be on better sleep because that's the outcome today's consumer is looking for, which Nightfood is uniquely qualified to deliver.
"We're excited about the new accounts expected to add Nightfood in the coming months and anticipate being able to make more information available to shareholders in the coming weeks."
You can learn more at: www.nightfood.com
Media Contact
Company Name: NightFood Holdings, Inc.
Contact Person: Media Relations
Email: Send Email
Phone: 888-888-6444
Address:520 White Plains Road Suite 500
City: Tarrytown
State: NY 10591
Country: United States
Website: https://nightfood.com/