Indian Diesel Genset Market Set to Boom in Tamil Nadu in Future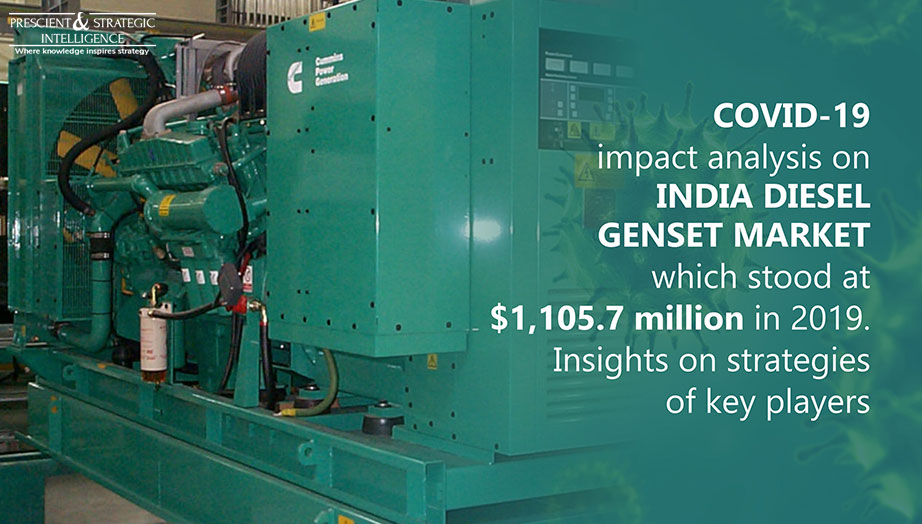 The Indian diesel genset market is expected to advance at a 12.5% CAGR during the forecast period by P&S Intelligence.
The Indian diesel genset market had a valuation of $1,105.7 million in 2019 and is predicted to generate a revenue of $2,365.2 million by 2030. Furthermore, the market will progress at a CAGR of 12.5% between 2020 and 2030, as per the estimates of P&S Intelligence, a market research company based in India. The rapid expansion in the manufacturing sector and the growing requirement for power for various commercial applications in the country are the main market growth drivers.
The launch of several government programs such as 'Make in India' and the implementation of favorable government policies with respect to the progress of the micro, small, and medium enterprises (MSMEs) are fueling the boom in the country's manufacturing sector. Moreover, the surging investments being made in the development of industrial corridors are positively impacting the sales of diesel gensets in India. This is because of the burgeoning requirement for backup power supply among manufacturing facilities across the country.
Download report sample at: https://www.psmarketresearch.com/market-analysis/india-diesel-genset-market/report-sample
The commercial category is further subdivided into telecom towers, retail establishments, hospitals, restaurants, offices, and hotels. Out of these, the telecom tower category registered the highest growth in the Indian diesel genset market during the past few years. Moreover, this trend is predicted to continue in the upcoming years as well. This will be because of the high requirement for backup power in telecom facilities and organizations around the country.
Furthermore, it is predicted that by 2022, the enactment of government policies such as the National Digital Communications Policy will raise investments of around $100 billion in the telecom sector. It will also fuel the development of an additional 100,000 mobile towers for catering to the demands of the mushrooming subscriber base. This will, in turn, push up the requirement for diesel generators in the country. The market will demonstrate the fastest growth in Tamil Nadu in the upcoming years.
Browse full report at: https://www.psmarketresearch.com/market-analysis/india-diesel-genset-market
Hence, it can be safely said that the market will grow substantially in the coming years, primarily on account of the rapid expansion of the construction and manufacturing industries in the country.
Market Segmentation by Power Rating
5 kVA–75 kVA
76 kVA–375 kVA
376 kVA–750 kVA
Above 750 kVA
Market Segmentation by Application
Commercial

By user

Retail establishments
Offices
Telecom towers
Hospitals
Hotels
Others (Including public transport agencies, party halls, petrol pumps, cold storage facilities, and amusement parks)

By power rating

5 kVA–75 kVA
76 kVA–375 kVA
376 kVA–750 kVA
Above 750 kVA

Industrial

By user

Manufacturing
Energy & power
Others (Including small industrial units, construction projects, and locomotives)

By power rating

5 kVA–75 kVA
76 kVA–375 kVA
376 kVA–750 kVA
Above 750 kVA

Residential
Market Segmentation by State
Tamil Nadu
Andhra Pradesh
Karnataka
Maharashtra
Uttar Pradesh
Madhya Pradesh
Rajasthan
West Bengal
Gujarat
Rest of India
Browse Other Related Reports
Diesel Genset Market – https://www.psmarketresearch.com/market-analysis/diesel-genset-market
India Gensets Market – https://www.psmarketresearch.com/market-analysis/india-gensets-market-outlook
Media Contact
Company Name: P&S Intelligence
Contact Person: Abhishek
Email: Send Email
Phone: +918887787886
Address:Noida Sector 2
City: Noida
State: UP
Country: India
Website: https://www.psmarketresearch.com/market-analysis/india-diesel-genset-market