Surging Use of Drones in Defense & Security Sector Driving Drone Analytics Demand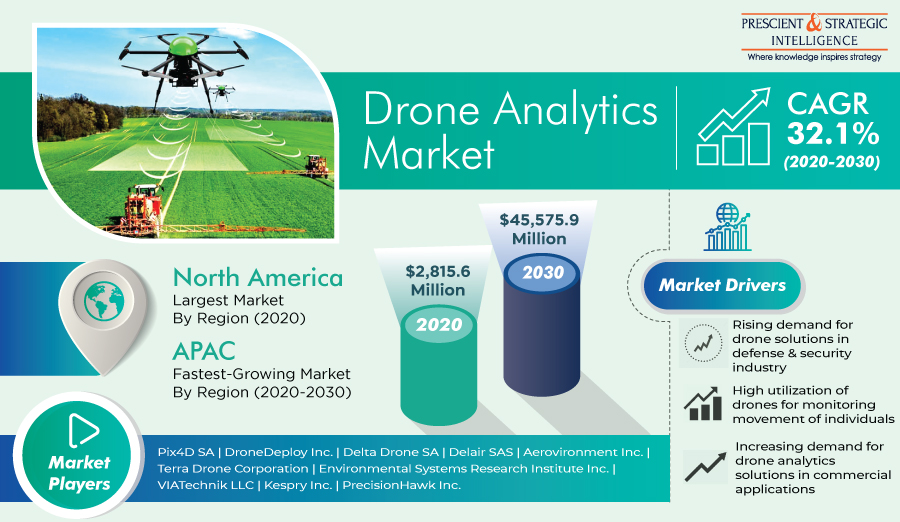 The drone analytics market has been bifurcated into cloud and on-premises, based on deployment. In 2020, the cloud category had the greater share of the market. Moreover, during the forecast period, this category is expected to grow at the higher rate.
The surging preference for beyond-visual-line-of-sight (BVLOS) drone operations, owing to the ability of BVLOS technology to enable drones to fly beyond the sight of the controller, will create a huge requirement for drone analytics solutions worldwide. BVLOS-based drones allow controllers to monitor large areas and conduct complex operations without any human interference. These drones help in recording high-quality data and reducing technology costs. Owing to such advantages, drone manufacturers are increasingly offering BVLOS-equipped drones to meet the evolving needs of customers and provide extended support to business organizations.
Moreover, the booming demand for unmanned aerial vehicles (UAVs) in the defense and security sector will drive the drone analytics market at a robust CAGR of 32.1% during 2020–2030. The market was valued at $2,815.6 million in 2020 and it is projected to generate $45,575.9 million revenue by 2030. The defense and security industry has been extensively deploying UAVs for the surveillance of areas vulnerable to attack and for conducting effective operations in border areas.
Get the sample pages of this report at: https://www.psmarketresearch.com/market-analysis/drone-analytics-market/report-sample
Currently, the aviation, agriculture and forestry, construction, defense and security, education, energy and utilities, government, insurance, logistics and transportation, mining and quarrying, oil and gas, and retail industries are deploying end-to-end solutions and point solutions for a wide range of applications. In recent years, end-use industries have primarily used drone analytics solutions for thermal detection. Additionally, end users also utilize such solutions for search and rescue (SAR), weather forecast, wildlife monitoring, entertainment, ground exploration, aerial monitoring, 3D modeling, and geolocation tagging.
The deployment segment of the drone analytics market is divided into cloud and on-premises. Under this segment, the cloud category accounted for the larger market share in 2020. This was primarily on account of the increasing penetration of the cloud computing technology in the corporate sector as it offers data access flexibility and a high data storage capacity. Additionally, the dominance of this category can also be credited to the lower IT costs associated with this technology. Owing to these factors, this category will also exhibit faster growth in the forecast years (2021–2030).
Browse detailed report on Drone Analytics Market Size, Regional Outlook and Growth Forecast to 2030
According to P&S Intelligence, the North American region was the largest user of drone analytics solutions in the recent past. This was due to the escalating demand for improved inspection and surveillance through drones, increasing integration of state-of-the-art technologies, such as machine learning (ML), the internet of things (IoT), and computer vision, in the drone software, and surging need for solutions to take immediate actions during unfavorable incidents in the agriculture, energy and utilities, and oil and gas industries in the region.
Thus, the increasing deployment of UAVs in the defense and security industry and rising preference for BVLOS capabilities will accelerate the adoption rate of drone analytics solutions in the upcoming years.
Drone Analytics Market Size Breakdown by Segments
By Component
Hardware
Software
Service
By Solution
End-to-End Solution
Point Solution
By Deployment
By Application
Thermal Detection
Geolocation Tagging
Aerial Monitoring
3D Modeling
Ground Exploration
By Industry
Agriculture & Forestry
Mining & Quarrying
Logistics & Transportation
Oil & Gas
Construction
Defense & Security
Energy & Utilities
Insurance
By Geography
North America
Europe

U.K.
Germany
France
Italy
Russia

Asia-Pacific

China
Japan
India
South Korea
Australia

Middle East and Africa

Turkey
U.A.E.
Saudi Arabia
South Africa
Israel

Latin America
Browse Other Related Reports
Agricultural Drones Market – One of the key growth drivers for the agricultural drones market is the burgeoning demand for agricultural products, such as fruits and vegetables, owing to the booming world population. At present, the rising use of agricultural drones for crop spraying is becoming a prominent trend in the agricultural drones market.
Consumer Drones Market – In recent years, the burgeoning demand for compact sensors from UAV manufacturers has become a prominent trend in the consumer drones market. Industry players use lightweight stereoscopic sensors, light detection and ranging (LiDAR) sensors, spectral sensors, ultrasonic sensors, and infrared sensors as they perform crop vigor analysis, 3D imaging, infrared thermography, and collision avoidance functions.
Media Contact
Company Name: P&S Intelligence
Contact Person: Abhishek
Email: Send Email
Phone: +918887787886
Address:Noida Sector 2
City: Noida
State: UP
Country: India
Website: https://www.psmarketresearch.com/market-analysis/drone-analytics-market