Corefactors Partners with GallaBox to Introduce a WhatsApp Business Communication Platform for SMB's
Teleduce advances the way businesses operate by reaching out to the right audience, capturing leads on diverse platforms, nurturing leads with Inbuilt communications Email/Call/SMS, and converting them into customers with non-stop assistance. Teleduce is an All-in-One CRM adopted by around 8000+ users.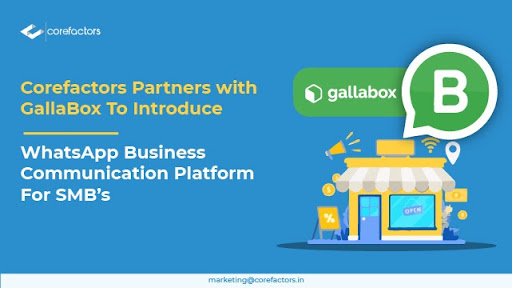 And now it facilitates the communication space to touch every customer, at any given time by leveraging WhatsApp joining hands with Gallabox. Thus resulting in more sales and more customers.
"Corefactors product Teleduce CRM not just helps SMB's with marketing, sales, support to achieve their goals faster. It also provides access to 360-degree views of customer data for business owners to scale their business faster. We are happy to collaborate with Gallabox for enabling Whatsapp business communication in teleduce. It will significantly help our customers to communicate with their end-users seamlessly under a single roof," says Sharmila S, Founder & CEO of Corefactors.
"Our objective as an end-to-end communication service is to provide users with an all-inclusive communication platform. Joining forces with the various features of Teleduce cohesively bring about our goal to yield businesses with 24/7 customer support and improve their lead conversions," says Karthik Jagannathan, Co-Founder & CEO of Gallabox.
Gallabox is a collaborative tool that enables businesses to instantly respond to the customers through Chatbots and broadcasts.
Teleduce along with Gallabox has various benefits to its customers:
1 – Zero dependencies on any third-party software to communicate to customers.
2 – Automatically capture the leads from bots to Teleduce with reduced lead leakage.
3 – Globally connect with the ideal customers and resolve their issues faster.
4 – Assign roles to the entire team and collaborate with ease.
Furthermore are the underlining benefits of GallaBox:
Chatbots
Engage customers with 24×7 Chatbot support. Customize Bot responses with text, images, videos, and audio. Reduce manual effort on recurring messages, no-brainer FAQs. Run surveys, Request feedback, and grow customer database. Speak customer's language by leveraging multi-lingual chatbots. Create no-code chatbots on Gallabox to offer an interactive customer experience with buttons, lists, and options for users to choose from.
Broadcast
Broadcast the approved and personalized WhatsApp templates in huge volumes through Gallabox. Schedule the broadcasts, automate reminders and recurring messages. Get hold of broadcast analytics in under minutes.
Field Collection/Customer Profiling
Use tags to profile customers better for future upsell and cross-sell opportunities. Access the up-to-date history of all interactions with the customer – so as for the teams to provide the right solution. Field Collection in Galla Box simplifies WhatsApp Broadcast segments.
Shared Team Inbox
Multi-agent workspace automates customer support and increases real-time responses. Delight customers with quick replies, keyword-specific messages. Get full access to customers' chat history to increase cooperation within teams. Managers and agents can assign conversations, send private notes, and mention team members without switching channels.
Teleduce is one of its kind and a pioneer in offering an intensive communication platform along with the optimum features like Outbound Marketing, Sales Automation, Customer Support, Success Management, and Inbuilt Cloud Telephony.
About Corefactors:
Corefactors product Teleduce is an All-in-one CRM empowering marketing, sales, support with inbuilt cloud communications. Teleduce is the only one solution for SMBs to easily set up, reach wider audiences, capture leads, generate sales and resolve customer queries faster through inbuilt communications Call, Email, Whatsapp, SMS.
Media Contact
Company Name: Corefactors
Contact Person: Paranthaman M
Email: Send Email
Phone: 080-67335577
City: Bangalore
Country: India
Website: https://www.corefactors.in/