Fraud Detection and Prevention Market Growing at a CAGR 18.5% | Key Player Nice Actimize, Lexisnexis Risk Solutions, Transunion, Kount, Fiserv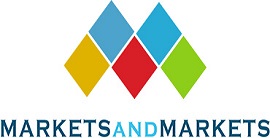 BAE Systems (UK), Nice Actimize (US), FICO (US), LexisNexis (US), TransUnion (US), Kount (US), Software AG (Germany), RSA Security (US), Fiserv (US), FIS (US), ACI Worldwide (US), Experian (Ireland), SecuroNix (US), Accertify (US), Feedzai (US), CaseWare (Canada), FRISS (Netherland), MaxMind (US), Gurucul (US), DataVisor (US), PayPal (US), Visa (US), SAS institute (US)
Fraud Detection and Prevention Market by Solution (Fraud Analytics, Authentication, and GRC), Service (Managed and Professional), Vertical (BFSI, Retail and eCommerce, and Travel and Transportation), Deployment Mode and Region – Global Forecast to 2026
MarketsandMarkets forecasts the FDP market size to grow from USD 22.8 billion in 2021 to USD 53.4 billion by 2026, at a Compound Annual Growth Rate (CAGR) of 18.5% from 2021 to 2026. Increased in the adoption rate of digitalization and IoT and increase in the revenue loss due to fraud to boost the growth of FDP market across the globe during the forecast period.
by component, Solutions segment to hold the largest market size during the forecast period
On the basis of solutions, the FDP market is segmented into fraud analytics, authentication, and GRC solutions. The demand for FDP solutions is increasing as they can help enterprises detect fraudulent activities and prevent their occurrence. The number of frauds is growing at a significant rate; however, it is the surge in revenue loss which is driving the demand for FDP solutions. These FDP solutions can work simultaneously to provide fraud-proof enterprise environments.
Money launderers or criminals may forge fake signatures and Identifications (IDs) to commit digital frauds using someone's identity. FDP solutions help in reducing digital frauds, illegal transactions, tax evasion attempts, and other payment corruptions by identifying and detecting fraudulent activities in the system and reporting them to assigned authorities on time.
Download PDF Brochure: https://www.marketsandmarkets.com/pdfdownloadNew.asp?id=1312
In deployment mode, cloud deployment to grow at a higher CAGR during the forecast period
According to Flexera, a computer software company, enterprises are set to spend around 15-16% of their revenue into cloud hosting services by 2020. Another study by Cisco stated that "53% of organizations host at least 50% of their infrastructure in the cloud." The investment in cloud services and shifting of businesses from traditional to cloud are expected to accelerate the adoption of cloud-based solutions and services by enterprises. Owing to the increasing pace of digitalization, security breaches and fraud cases especially identity theft and online fraud has also increased. These increasing trend of eCommerce and online retail and digital payments has increased the adoption rate of online FDP solutions among end-user verticals to combat with fraud and compliance intruders.
Fraud Detection and Prevention is the process of finding a fraudulent activity in a system and utilizing the resources to mitigate those risks; this is termed as fraud detection. The process of utilizing automated tools and methods of predictive analytics to find out the vulnerability is termed as fraud prevention.
The FDP market includes major vendors, such as BAE Systems (UK), Nice Actimize(US), FICO (US), LexisNexis(US), TransUnion(US), Kount (US), Software AG(Germany), RSA Security(US), Fiserv(US), FIS (US), ACI Worldwide(US), Experian(Ireland), SecuroNix (US), Accertify (US), Feedzai (US), CaseWare (Canada), FRISS(Netherland), MaxMind (US), Gurucul (US), DataVisor (US), PayPal (US), Visa (US), SAS institute (US), SAP SE (Germany), Microsoft Corporation (US), F5, Inc (US), Ingenico (France), AWS (US), PerimeterX (US), OneSpan (US), Signifyd (US), Cleafy (Italy) and Pondera Solutions (US).
These players have adopted various growth strategies, such as partnerships, agreements and collaborations, new product launches and product enhancements, and acquisitions to expand their presence in the FDP market. Partnerships, agreements and collaborations, and new product launches have been the most adopted strategies by the major players from 2020 to 2021 to innovate their offerings and broaden their customer base.
BAE Systems
BAE Systems was founded in 1999 and is headquartered in London, UK. The company operates in five different business segments, which include electronic systems, cyber and intelligence, platforms and services, air, and maritime. It develops and delivers advanced defense and aerospace systems for air force, military, and naval forces. Its electronic systems segment offers Electronic Warfare (EW) systems, Electro Optical (EO) sensors, commercial digital engines, military communication systems, and data links. It offers a range of products to various military platforms and advanced electronics, IT, and customer services. Some of the key subsidiaries of BAE Systems are BAE Systems Integrated System Technologies, BAE Systems Maritime (Submarines), and BAE Systems Military Air and Information. For fraud detection and prevention, BAE Systems provides the NetReveal compliance solutions suite recognized as a best-in-class solution for AI in financial services for workflow and automation. The fraud detection and prevention service of BAE Systems includes the NetReveal OnDemand (NROD) solution, which is a holistic hosted 'as-a-Service' solution that can reduce IT spend and minimize system maintenance. The unique Anti-Money Laundering (AML) service includes all things from preparing and ingesting data from varying sources to hosting, configuration, and tuning and management of the AML system, which is also considered to be world-class for AML. BAE Systems has a presence in the KSA, UK, US, Australia, and India.
BAE Systems Offerings: NetReveal Compliance Solution Suite, NetReveal AML Transaction Monitoring, NetReveal AML Optimization, NetReveal AML Customer Due Diligence/Know Your Customer (CDD/KYC)
Request a Sample Pages: https://www.marketsandmarkets.com/requestsampleNew.asp?id=1312
NICE Actimize
Founded in 1999 and headquartered in New Jersey, US,