Hash Blink is breaking cultural barriers in Hip Hop after making a journey from Liberia to New York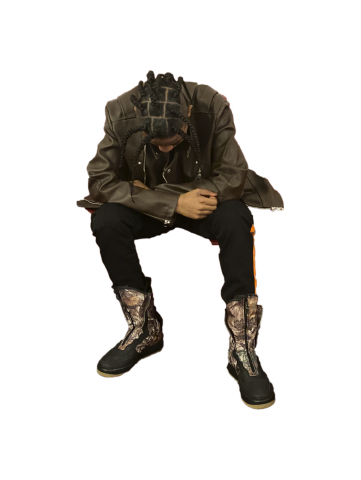 Hash Blink aka Thomas B. Sheriff is the new rising star in the Hip Hop music scene, who got hit by the music bug at the young age of 13. Born and raised in Liberia, Western Africa, he didn't realize his talent for singing-songwriting until the age of 15. Inspired by 50 Cent's hit single "P.I.M.P.", he inclined towards Hip Hop music and started writing songs, and jamming with friends in school. That was the moment when young Thomas started to see himself as Hash Blink.
At the young age of 17, Hash Blink moved to Chicago, to follow his dreams in life. Soon after, he released a trio of singles and now planning to drop a new EP "Life in Babylon" in 2020. Hash Blink is a fan of Eminem and often relates to his journey, as a White making it big in the Black dominated genre. He too is dreaming of following his passion for Hip Hop music, a genre dominated by the western world. The artist is constantly working hard to make his mark in the world of Hip Hop and rap music, since the time he landed in the USA, two years ago.
In his singles "Nothing like you" and "Not perfect", Hash Blink showcases his powerful vocal delivery and impressive songwriting skills, making the fans wonder what else the artist has to offer in his upcoming projects. Talking about his music style, Hash Blink states, "I want to turn sadness into happiness in a fun way. There is lots of stuff going on these days and we the youth are the next generation and leaders and if we don't start letting go of negative thoughts our goals won't be accomplished, when we are in jail, being killed for acting tuff, etc".
Hash Blink has made a tough journey for his goals and discovered his true strength on the way. He believes in being brave and grabbing all the opportunities life throws at you. "I want to stick to my plans, make more good music, that buries the sadness, depression, stress, and turns them all into something positive so we can all grow and become whatever we want to be", the artist adds further.
Hash Blink is producing all of his music through his label but he is open to partnering with other labels if they give him creative freedom and the right push in the industry.
Hash Blink's music is available on all streaming platforms such as Spotify, Soundcloud, Apple Music, and Pandora among others. It can be accessed through this LINK.
More information about the artist and streaming links can be found on his website hashblink.net.
Instagram: https://www.instagram.com/hash_blink/
Facebook: https://www.facebook.com/blinkhash/
Twitter: https://twitter.com/HashBlink
Media Contact
Company Name: Hash Blink
Contact Person: Tissidy Sheriff
Email: Send Email
Country: United States
Website: www.hashblink.net